Endowments
James H. "Jim" Shimberg
March 6, 1923 - June 15, 2007
James H. Shimberg, one of Tampa's leading home builders, committed $1 million to the University of Florida in 1991 to help UF find solutions to Florida's growing need for affordable housing.
With state matching funds included, Shimberg created a $1.5 million, multi-purpose endowment for the Center for Affordable Housing in the College of Design, Construction, and Planning. In recognition, the college renamed the Center the Shimberg Center for Affordable Housing. The Center was again renamed in 2008 to the Shimberg Center for Housing Studies to reflect the Center's broadening scope of interest.
A native of Syracuse, N.Y., James H. Shimberg attended the University of Kansas and City College of New York. He received a JD degree from the University of Chicago and he was admitted to both the New York and Florida Bars.
Shimberg moved to Florida in 1958, where he established a reputation as a national spokesman for the housing industry. He developed Town `n Country Park, Inc., long recognized as one of Tampa's most affordable communities. His companies have constructed more than 8,000 units of housing in the state.
Shimberg served on a number of high-level Florida committees, including the Environmental Land Management Study Committee (1972-74), the Governor's Resource Management Task Force (Chair, 1979-80), and the State Comprehensive Plan Committee (1985-86). He was also a life director of the National Association of Home Builders, headed a number of key NAHB committees and served as chairman of the Hillsborough County Charter Review Board. Shimberg was a past president of the Florida Home Builders Association and of the Home Builders Association of Greater Tampa.
Mr. Shimberg and his wife, Amy, were named "Philanthropists of the Year" by the Association of Fundraising Professionals in 2003. Today, the Shimberg's five children: Jim Jr., Nancy, Robert, Richard and Janet are continuing the tradition of service established by their parents. Also surviving Mr. Shimberg are 15 grandchildren.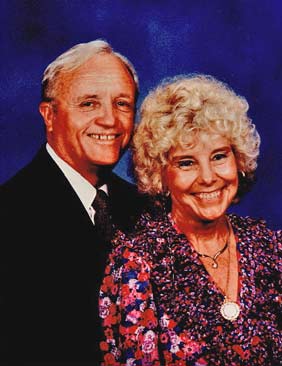 Jess and Ida Childre
In 1991, Jess and Ida Rogero Childre donated $100,000 to the Shimberg Center to establish the Ida Rogero Childre Fellowship and Assistantship Endowment. The endowment supports a research assistantship with the Center for an outstanding graduate student whose studies are in the areas of affordable housing. Jess Childre is a 1950 graduate of the M. E. Rinker School of Construction Management. His company, Childre Homes, built homes, commercial and industrial buildings, and developed residential and commercial subdivisions.
Jess and Ida were married the week of graduation in 1950 and worked as a team in construction for 35 years before retiring to St. Augustine, Ida's home town. Ida is a descendent of one of the original settlers of St. Augustine, dating back to 1565. Jess credits her with being the conservative partner that made the business a success for so many years.
Throughout his career, Mr. Childre was active in community and business organizations: 25 years as a bank director, 40 years in Kiwanis, 35 years as a Realtor, and 40+ years in the National Association of Home Builders including serving as a Life Director. He served as a member of the East Central Florida Regional Planning Council, the North Brevard Development Commission, the St. Augustine Historic Preservation Commission, and founding President and Director of the Colonial St. Augustine Foundation. In 2003, he was inducted into the Construction Hall of Fame of the Rinker School. In 2008, he was honored for 50 years of continued loyalty and support of GATOR Boosters, Inc.
Mr. Childre passed away on July 25, 2017 at the age of 91. (obituary)